Facelift Surgery & Facial Rejuvination
---
Aging takes a toll on everyone, but unfortunately, the signs are more visible on some people, and nowhere are the signs more apparent than on the face. Over time, the underlying support structures of the face weaken, creating jowls, flat cheeks, nasolabial folds, less jawline definition, excess skin, and fat around the neck and other areas of the face, among other cosmetic issues. Although aging is inevitable, the effects are redeemable. Gainesville plastic surgeon Dr. Tyrone helps patients look as young on the outside as they feel inside with facelift surgery and nonsurgical facial rejuvenation. Whether you're looking for a long-term solution to wrinkles or a light touchup before a special occasion, let us develop a cosmetic solution to fulfill your beauty goals. Contact us today to schedule a consultation.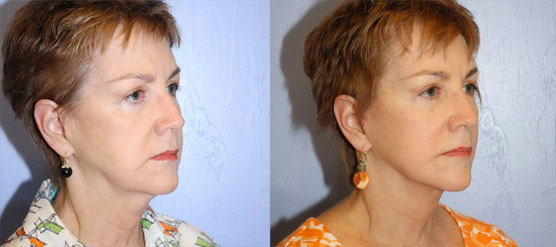 Before
After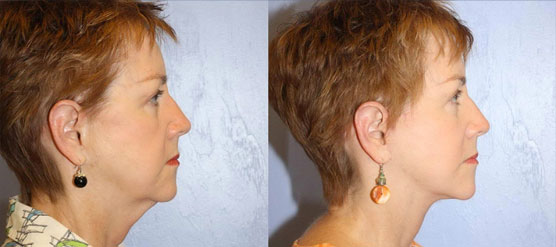 Before & AfterFacelift Results
---
Rhytidectomy Case Study
Here is a patient who was 63 years old and had had one facelift surgery before. She came to Dr. Tyrone for a second facelift procedure with an upper and lower blepharoplasty to fix lingering signs of aging on her face. The results speak for themselves, including more definition to her chin, neck, and cheeks, and a more youthful profile overall.
Individual results may vary.
Schedule Consultation
View Before & After Gallery
Facelift Surgery
Facelift surgery is one of the most popular cosmetic procedures for people who want to look younger. A facelift, or rhytidectomy, is an outpatient procedure that involves removing excess skin to reshape and add definition to the face. The procedure is used to minimize signs of aging, such as lost muscle tone, displaced fat, loose or sagging skin, and creases near the eyes, nose, or mouth. Facelifts usually take between two and five hours to complete, and most patients return home the same day. The effects of the surgery are permanent.
Patient-Specific Plans For Facelift Surgery
Dr. Tyrone distinguishes himself among plastic surgeons in Gainesville, FL, because he does not believe in one-size-fits-all solutions. Every surgery he performs is tailored to fit the patient's individual needs and desires — no two facelifts are ever the same. During your consultation, Dr. Tyrone will first ask what you hope to achieve through cosmetic surgery. Next, he will lay out all of your options for cosmetic procedures and then create a personalized plan for surgery. Whether you prefer to have a facelift by itself or multiple procedures, including rhinoplasty, breast implants, or a mommy makeover, we can accommodate your surgical goals while achieving the optimal balance for your face and body.
The Road To Recovery After Facelift Surgery
After facelift surgery, our staff will be there to assist you during recovery. We see patients the day after the operations to change their dressings and check on the status of healing. During the follow-up, we also answer questions and provide additional instructions when necessary. Patients commonly experience mild swelling and bruising for one to two weeks after surgery and are required to wear surgical compression garments during this period. Most patients describe the side-effects from a facelift as mild and less uncomfortable than they had expected them to be. We encourage you to come in and discuss your options with Dr. Tyrone.
Facial Rejuvenation
For patients who want to look younger but don't want the dramatic results of a facelift, or who want the benefits of a facelift without surgery, Dr. Tyrone recommends non-surgical facial rejuvenation. Facial rejuvenation procedures are fast and easy to administer, with immediate results that can last for up to several months or longer.
Non-Invasive Facial Rejuvenation Procedures
Whether you want to brighten and even your skin tone or reverse skin damage caused by sun exposure or acne, facial rejuvenation procedures can help you reclaim the skin you want without the need for surgery. Dr. Tyrone offers micro needling therapy, chemical peels, and laser hair removal treatments. He also provides a wide range of cosmetic injections that reduce wrinkles, including BOTOX®️ Cosmetic, as well as dermal fillers that add volume and contour to the face. Given his experience with facial rejuvenation procedures, Dr. Tyrone can recommend the right combination of methods to achieve the results you desire.
Immediate Benefits Of Facial Rejuvenation
Because facial rejuvenation uses non-invasive procedures, patients experience little to no downtime — most return to work or school the same day. Meanwhile, the results are usually visible right away, and they tend to improve over time, lasting for up to a year or longer. Many patients prefer to have follow-up treatments after a few months to ensure consistency and results that everyone will notice — but no one will suspect. Contact our plastic surgery center in Gainesville to learn more about your options for non-surgical facial rejuvenation treatments.