Facelift Surgery & Facial Rejuvenation
---
Aging takes a toll on all of us, but unfortunately, the signs are more visible on some patients, and nowhere are the signs more apparent than on the face. Over time, the underlying support structures of the face weaken, creating jowls, flat cheeks, nasolabial folds, less jawline definition, excess skin, and fat around the neck and other areas of the face, among other cosmetic issues. Although aging is inevitable, the effects are redeemable.
At John W. Tyrone M.D. Aesthetics & Plastic Surgery, our team of plastic surgeons wants to help you feel young inside and out. Dr. Tyrone and the team are well versed in all types of cosmetic plastic surgery procedures, including facelifts and facial rejuvenation. Ready to achieve the look you've always wanted?
Contact us today to schedule a consultation!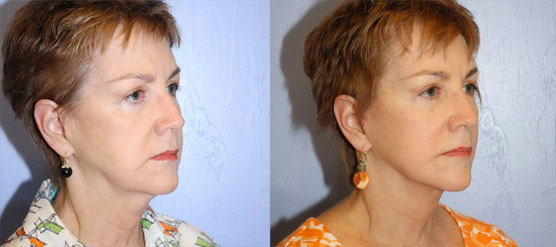 Before
After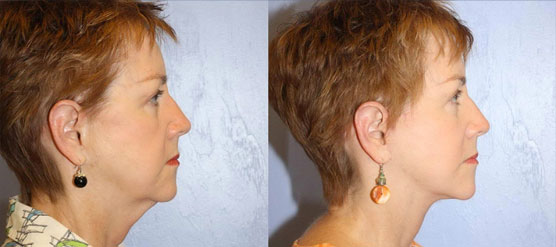 Facelift Before & After Results
---
Rhytidectomy Case Study
Here is a patient who was 63 years old and had had one facelift surgery before. She came to Dr. Tyrone for a second facelift procedure with an upper and lower blepharoplasty to fix lingering signs of aging on her face. The results speak for themselves, including more definition to her chin, neck, and cheeks, and a more youthful profile overall.
Individual results may vary.
Schedule Consultation
View Before & After Gallery
Facelift Surgery
Facelift surgery is one of the most popular cosmetic procedures for people who want to look younger. A facelift, or rhytidectomy, is an outpatient procedure that involves removing excess skin to reshape and add definition to the face. The procedure is used to minimize signs of aging, such as lost muscle tone, displaced fat, loose or sagging skin, and creases near the eyes, nose, or mouth.
Facelift Benefits
No matter the specifics of your facelift procedure, the benefits are overall the same. A facelift is great for tightening the facial muscles, putting less tension on the skin and ensuring the results of the facelift last longer. Facelifts are also perfect for repairing loose or sagging skin and give patients a natural, youthful-looking appearance. Lastly, facelifts can drastically improve the contours of the face, which can result in a more defined jawline.
Types Of Facelifts
Patients have different desires for their facelift. Luckily, there are a couple of different types of facelifts so you can get exactly what you need. Get in touch with us to learn more about the available types of facelifts, including the following.
Traditional facelift. This facelift is recommended for patients with moderate to advanced jowling or sagging skin. However, this procedure is a little more invasive and therefore the downtime is longer. The traditional facelift will require a plastic surgeon to make slightly longer incisions, starting behind the ears and extending up to the hairline.
Mini-facelift. This facelift is recommended for patients who are experiencing some mild jowling or sagging skin. This is less invasive than other kinds of facelift surgery, allowing the plastic surgeon to tighten loose skin through much smaller incisions. Usually, these incisions are made along the hairline.
Facelift Side Effects
As with any other plastic surgery procedure, there are side effects that patients should be aware of and discuss with a surgeon beforehand. Some facelift side effects include the following.
Bleeding
Anesthesia Risks
Infection
Cardiac Events
Pain
Scarring
Blood Clots
Hair Loss At Incision Sites
Swelling
Wound Healing Problems
Facelift Procedure
The exact procedure for a facelift varies based on the type and a patient's desired results. Generally speaking, an incision is made in the hairline near the temples. The incision goes in front of the ear, down in front of and hugging the earlobe, then back to the lower scalp behind the ears. Fat and excess skin may be removed or redistributed from the face. Some other procedures, such as a rhinoplasty, necklift, mommy makeover, or breast augmentation, might be performed at the same time depending on a patient's goals. Contact us for more information.
Facelift Recovery
Whether you get a traditional facelift or mini-facelift, recovery is typically the same for both. Either way, patients should anticipate some downtime, allowing the body time to rest and recover before jumping back into normal life. Recovery from a facelift may take up to two weeks before patients are able to be back on their feet full-time, and up to four weeks before they're ready to resume vigorous exercise. For specific information about recovery from a facelift, talk with our plastic surgeon.
Facial Rejuvenation
For patients who want to look younger but don't want the dramatic results of a facelift, or who want the benefits of a facelift without surgery, we recommend non surgical facial rejuvenation. Facial rejuvenation procedures are fast and easy to administer, with immediate results that can last for up to several months or longer. Our plastic surgery team offers a wide variety of facial rejuvenation treatment options.
Facial Rejuvenation Procedures
Whether you want to brighten and even out your skin tone or reverse skin damage caused by sun exposure or acne, facial rejuvenation procedures can help you reclaim the skin you want without the need for surgery. Our plastic surgery center offers many facial rejuvenation procedures, including micro needling therapy, chemical peels, laser hair removal, and other skin care treatments. We also offer cosmetic injections that can smooth out skin and get rid of wrinkles, including BOTOX®️ and other dermal fillers.
Benefits Of Facial Rejuvenation
Because facial rejuvenation uses non-invasive procedures, patients experience little to no downtime — most return to work or school the same day. The results are usually visible right away, and they tend to improve over time, lasting for up to a year or longer. Many patients prefer to have follow-up treatments after a few months to ensure consistency and results that are noticeable. Contact us to learn more about your options for non surgical facial rejuvenation treatments.