Corrective Breast
Surgery
In Gainesville, FL
Differences in the development of one or both breasts during puberty can leave a woman unhappy with or self-conscious about her breasts. Nearly all women have subtle differences between their breasts; however, if the breasts vary dramatically in size or shape, this can have a dramatic effect on a woman's psyche. Fortunately, breast asymmetry surgery can help correct visible breast asymmetry, restoring a balanced aesthetic to the breast and improving the patient's self-image! Correction of "tubular breasts" is a very common procedure at our office.
As a board-certified plastic surgeon in Gainesville, FL, Dr. Tyrone has extensive experience correcting breast asymmetry, tubular breast deformity, constricted breast deformity, and other congenital breast deformities. Contact John W. Tyrone, MD, PLLC, Plastic Surgery today to learn more about breast asymmetry correction surgery or schedule a consultation with our plastic surgeon in Gainesville!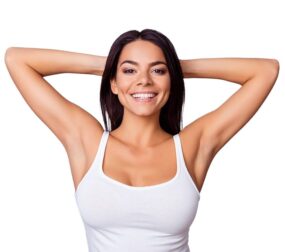 Expert Solutions For
Breast Asymmetry
There are a number of cosmetic breast surgery options that may be used to correct visibly asymmetrical breasts. Dr. Tyrone, our experienced cosmetic surgeon, will work with patients to develop a breast asymmetry correction plan that works for them and helps to address their unique concerns. The following are a few possible cosmetic breast surgery procedures that could be used to address breast asymmetry.
Breast Implants
For patients with mild cases of breast asymmetry, the placement of breast implants may be used to help balance out the shape and size of their breasts. In cases where the patient chooses breast augmentation via implants to correct their breast asymmetry, either saline or silicone breast implants may be used. It's common for variation in the CCs of an implant might be used between the breasts to help achieve symmetrical breasts. Additionally, patients may choose to enlarge both breasts with implants or just the smaller one.
Breast Reduction
Rather than enlarging the breasts with implants, patients may choose to even out asymmetrical breasts by reducing the size of the larger breast. A breast reduction procedure entails removing excess fat and skin to restore a natural shape to the breasts and correct breast asymmetry. If the breast being reduced is so large that it droops, a breast lift may be used as well to raise the breast, resulting in a lifted and symmetrical appearance
Breast Lift
In some cases, our plastic surgeon may treat asymmetrical breasts with a lift, while in others, only one breast may need to be lifted. In a breast lift procedure, loose, sagging skin is removed from the breast, and the remaining skin is lifted, then the incisions are closed with fine sutures. Breasts that have undergone this procedure are more proportionate with each other and look more youthful and perky.
Frequently Asked Questions
While the exact cause of breast asymmetry is unknown, it's a common condition that could be brought about by a number of different factors. Some of the most common factors that contribute to asymmetrical breasts include hormonal changes, breastfeeding, injuries to the chest, and conditions such as juvenile hypertrophy.
The recovery period for breast asymmetry correction surgery will vary depending on which surgical procedure the patient chooses. In general, patients will need to limit their activity for a few days but will be back to their usual routine within a week to 10 days. Following your procedure, our Gainesville plastic surgery team will discuss aftercare and the recovery process with you.
The exact cost of breast asymmetry surgery will vary depending on which correction procedure you undertake. Contact our plastic surgery practice today to schedule a consultation or learn more about breast asymmetry correction surgery price.