Breast Augmentation with Saline or Silicone Implants
---
Breast augmentation (breast enhancement) with saline or silicone breast implants in Gainesville, Florida by Dr. John W. Tyrone involves placement of either a saline or silicone breast implant behind the breast. Patients often desire to enhance the shape and size of their breast because they feel their breast size is too small, to correct a reduction in breast volume after pregnancy or weight loss, and to balance a difference in breast size. The breast implant is generally placed in a pocket beneath the pectoralis muscle (submuscular breast augentation). The implant is most commonly placed through minimal incisions located either in the fold beneath the breast (inframammary or IMF incision), at the junction of the areola with the skin of the breast (periareolar incision), or through the axilla (transaxillary incision). By inserting an implant behind each breast, Dr Tyrone is able to enhance a woman's bustline by one or more bra cup sizes. Most patients choose to have their breast implants placed through the inframammary or perioareolar approach as these incisions provide the surgeon with the most precise control over implant placement.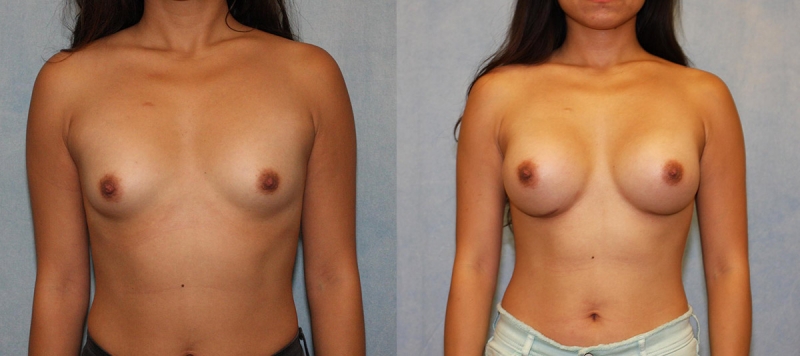 Before
After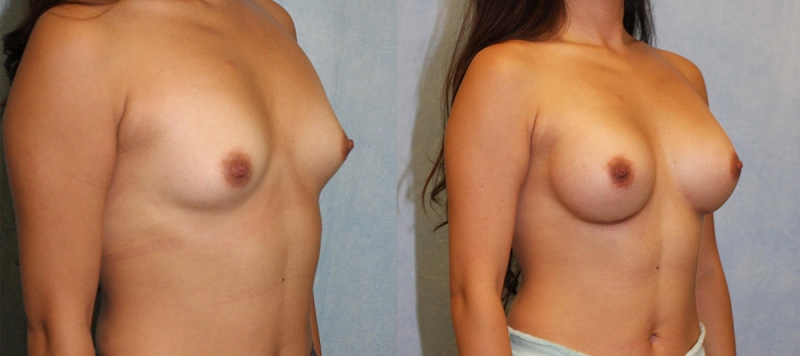 Before & AfterIn-Depth Comparison
---
Breast Augmentation Case Study
Patient is a 27 year old female, 5 feet 4 inches, 116 pounds. She desired a Mid-C cup post-operatively. 295cc Silicone Gel implants were placed submuscularly.
Individual results may vary.
Schedule Consultation
View Before & After Gallery
Breast Implants
Breast augmentation is performed as an outpatient procedure at Dr. Tyrone's fully accredited ambulatory surgery facility. Our convenient location allows Dr. Tyrone to perform breast augmentation surgery on patients from not only Gainesville and Alachua County Florida, but also on patients from throughout north Florida and south Georgia. Dr. Tyrone understands that the decision to undergo breast augmentation is an important one, and he knows the importance of educating you before, during and after the procedure as he firmly believes the most informed patients are also the most comfortable, confident and satisfied patients. Several before-and-after breast augmentation patient photographs are available on this website. Additional photographs are available for viewing in the office.
For many women, the result of breast augmentation can be satisfying, even exhilarating, as they learn to appreciate their fuller appearance. Regular examination by your plastic surgeon and routine mammograms for those in the appropriate age groups at prescribed intervals will help assure that any complications, if they occur, can be detected early and treated. Your decision to have breast augmentation is a highly personal one that not everyone will understand. The important thing is how you feel about it. If you've met your goals, then your surgery is a success.
Breast Implants Frequently Asked Questions
Below are a few of the commonly asked questions regarding breast implant (augmentation) surgery. We understand that patients often have many other questions, and we strongly encourage you to write them down and bring them with you to your consultation. Dr. Tyrone is happy to answer any question you may have, and believes the most informed patients are the most satisfied patients.