Gummy Bear Implants
& Shaped Breast Implants
In Gainesville, FL
GO GUMMY! With gummy bear breast implants!!!
While some women are blessed with their preferred bustline, many wish they had a bit more volume to fill out their shape and enhance the appearance of their cleavage in clothing. That's where gummy bear implants come in! Dr. Tyrone, our skilled plastic surgeon in Gainesville, FL, is proud to offer his patients shaped silicone breast implants that better resemble the feel, form, and aesthetic of natural breasts than round implants in certain patients. Gummy bear breast implants, also known as anatomical breast implants, form-stable implants, or teardrop implants, are a type of breast implant made from a silicone shell with a highly cohesive silicone gel filling and a textured surface that helps them adhere seamlessly to surrounding tissue and prevents implant rotation.
If you're considering breast augmentation with shaped breast implants, please contact our office to schedule a consultation with Dr. Tyrone. He and his team are happy to answer any questions you may have to help you determine if this procedure is right for you. Contact us today to book an appointment and learn more about our available breast procedures!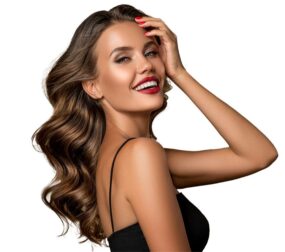 Benefits Of Shaped Breast Implants
Natural-Looking Breasts
Anatomical breast implants are made of a form-stable, cohesive silicone gel with a thicker consistency than traditional silicone implants. This allows them to mimic the natural look and feel of natural breasts.
Improved Breast Projection
Another benefit of shaped breast implants is their enhanced ability to project the breasts for a fuller, perkier appearance. Because these implants have a textured outer shell, they remain oriented in place over time.
Enhanced Cleavage
After undergoing breast augmentation with Dr. Tyrone, you can expect larger, more beautiful breasts that enhance your overall figure and complement your natural beauty. Feel confident in any outfit with shaped implants.
Personalized Sizing
You are unique. Your breast implants should be, too! Dr. Tyrone uses his artistic attention to detail to help his patients select their ideal sizing, shape, and filling for their ideal gummy bear breast implants.
Reduced Rippling
The thick, form-stable gel in shaped breast implants enhances the appearance of the breasts and reduces the chance for visible implant rippling over time, making them an ideal option for patients with thin breast tissue.
Types Of
Shaped Breast Implants
With their popularity among patients undergoing breast enhancement surgery and its approval by the U.S. Food and Drug Administration, shaped breast implants have become the gold standard for surgeons and patients. Choose from several shapes, including teardrop-shaped breast implants, implants with a round base and contoured top, and uniquely shaped implants.
Teardrop Implants
In the right patients, teardrop gummy bear implants can produce the most desirable and natural-looking shaped breasts. The teardrop breast shape features a wide, round base that gently slopes upward, providing a natural appearance that looks beautiful.
Round Implants With Contoured Top
On their own, round breast implants add fullness and volume to the entire breast, but in certain patients, it can appear too circular. In shaped implants featuring a round base and contoured top, the breasts are perfectly enhanced with a natural appearance.
Uniquely Shaped Implants
Dr. Tyrone offers uniquely shaped breast implants to address the unique needs of patients seeking breast augmentation with results that best suit them. If one of your breasts appears different from the other, he can use an implant with a unique shape to restore balance.
Preparing For Your Breast Implant Surgery
Your journey to a fuller, natural-looking bustline starts with a comprehensive consultation with our Gainesville plastic surgeon, Dr. Tyrone. During your initial consultation, you will discuss your medical history and information, the details of the procedure, and what is expected of you both before your procedure and after the surgery is completed. You will also discuss the risks of surgery in detail, and Dr. Tyrone will answer any questions, address any concerns, and discuss motivations you may have for undergoing breast augmentation with gummy bear implants. You will also discuss your preferred breast implant shape, size, and positioning, and Dr. Tyrone will work with you to select the ideal choice for you. You will be able to view numerous before-and-after photos with similar results to what you can expect from your procedure.
Before undergoing breast augmentation surgery with shaped implants, you will receive comprehensive pre-operative instructions that detail every aspect of your surgical journey. This will include information about how to best prepare for your procedure, financing, postoperative care, follow-up appointments, and medication requirements. After your consultation, our patient coordinator will meet with you to discuss scheduling your procedure and answering any other questions you may have. They will also provide you with prescription forms that must be completed before your procedure. It's important to note that not all women are good candidates for receiving gummy bear breast implants. Dr. Tyrone will work with you to evaluate your individual needs and goals.
An Overview Of Breast Augmentation Surgery
Your breast augmentation will take place as an outpatient procedure at our fully accredited ambulatory surgery facility in Gainesville, FL. To begin the procedure, Dr. Tyrone will administer general anesthesia in order to ensure you are comfortable and safe throughout the surgery. Dr. Tyrone will then make a precise, minimal incision, either at the bottom of your breast, under your arm, or around your areola. The placement of your incision is a critical factor in the breast augmentation process, as it can determine breastfeeding options, breast tissue and nipple sensation, and potential scarring. During your consultation, Dr. Tyrone will discuss the risks and advantages of each incision placement and help you make the decision that best benefits you.
Once Dr. Tyrone makes the incision, he will then place your implants, either through sub-glandular breast implant placement, in which the implant is positioned behind the breast tissue and in front of the pectoral muscle, or through submuscular breast implant placement, where the implant is placed beneath the pectoral muscle. You and Dr. Tyrone will decide which placement is ideal for you during your consultation. Once the implant is placed, Dr. Tyrone will close the incision using his artistic attention to detail to minimize scarring. If you require additional information, please contact our office.
Book A Consultation With Our Plastic Surgeon
Shaped breast implants can help the right patients find renewed confidence in their appearance for their ideal bustline with implants that look natural, are less susceptible to rippling and other complications and are customizable to their unique physique. If you are interested in achieving fuller, more symmetrical breasts that accentuate your natural beauty through breast augmentation, gummy bear implants may be the right option for you. The best way to determine your optimal treatment plan is during a consultation with our experienced plastic surgeon. Why wait? Contact us today to schedule an appointment or book a virtual consultation and start on the path to a rejuvenated, more self-confident you!
Frequently Asked Questions
Enhance your natural beauty with cohesive-gel implants that fil-out your bustline and discover a renewed sense of self-confidence. Following their breast implant procedure, patients generally enjoy long-lasting results. The results of your breast augmentation with gummy implants will depend on your unique anatomy and aesthetic goals, the specific type of implant used, and your plastic surgeon's technique. Yet, it is critical that patients understand that their breast tissue and implants will age with them following their surgery. Changes experienced over time, such as significant increases or decreases in weight, pregnancy, and other changes may alter their original results. In order to ensure an optimal outcome, patients must maintain a connection with Dr. Tyrone after their procedure. He will address any concerns and provide patients with recommendations that can help patients adjust to having breast implants.
On average, full recovery following breast augmentation can take 4–6 weeks. However, this varies from patient to patient. During this time, it is important for patients to refrain from engaging in strenuous activities, lifting heavy objects, and overworking themselves. Dr. Tyrone will discuss each aspect of the healing process with you and provide specific aftercare instructions. Following your postoperative instructions and attending regularly scheduled follow-up appointments with Dr. Tyrone is critical to helping ensure the best possible outcome and to avoid potential complications. While gummy bear implants offer a wealth of benefits, such as a natural look and feel, reduced risk of rupture, and a reduced risk of capsular contracture, there are potential risks and complications associated with any surgical procedure, including breast augmentation.
Potential risks of breast augmentation can include infection, bleeding, scarring, and changes in breast or nipple sensation, among other risks. For our plastic surgeon, it is critical that patients have full knowledge and understanding of the potential risks and benefits of this procedure to determine if it is the right option for them. During your consultation, Dr. Tyrone will discuss all potential risks and complications with you and answer any questions you may have.