Rhinoplasty In Gainesville, FL
---
The nose is the centerpiece of the face and even subtle alterations to nasal bones and cartilage can dramatically improve one's appearance. Prominent humps can be removed, delicate tip cartilages can be refined and the nostrils can be narrowed. Just like all plastic surgery procedures, rhinoplasty must be customized to the patient's needs and desires. Depending on the patient's desire, nasal reshaping with a rhinoplasty can provide subtle improvements in nasal appearance or dramatic results.
Dr. Tyrone, Dr. Khairalla, and the entire team at John W. Tyrone M.D. Aesthetics & Plastic Surgery delivers beautiful results for all types of facial plastic surgery, including rhinoplasty, or nose surgery. Contact our office today to schedule a consultation or to learn more about all our cosmetic plastic surgery procedures.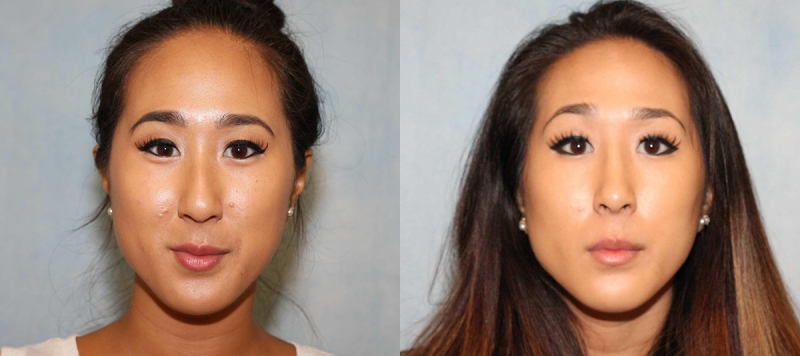 Before
After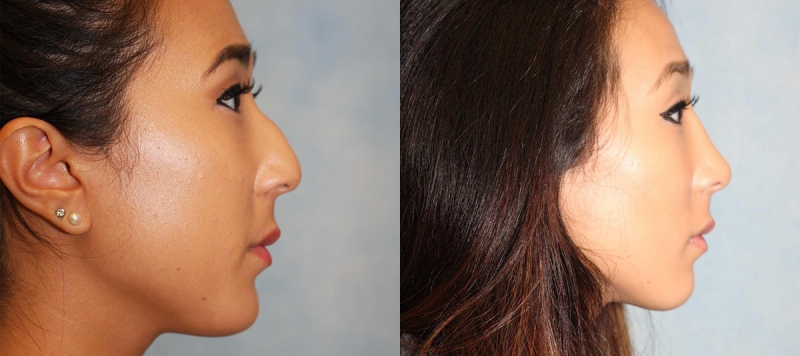 Before & AfterIn-Depth Comparison
---
Rhinoplasty Case Study
This is a 23 year old female who underwent Rhinoplasty surgery with Dr. Tyrone to improve the appearance of her nose. Dr. Tyrone addressed her dorsal hump and broad nasal tip to improve the overall look of the patient's nose.
Individual results may vary.
Schedule Consultation
View Before & After Gallery
What Is Rhinoplasty?
Rhinoplasty, or a "nose job," enhances a patient's overall face by improving the shape and size of the nose. It can be done for a variety of health or cosmetic reasons, and this surgery changes the shape of the nose by modifying the bone or cartilage. Rhinoplasty is one of the most common types of plastic surgery we perform, and if you decide to get rhinoplasty, our Dr. Tyrone or Dr. Khairalla will work with you to elevate your natural beauty and facial appearance.
Why Get Rhinoplasty?
No patient is alike and neither is their nose. Patients opt for rhinoplasty to repair their nose after an injury, to correct breathing problems or a birth defect, or because they're unhappy with the appearance of their nose. Possible changes that a plastic surgeon can make to your nose through rhinoplasty include changing the size or angle of the nose, straightening of the bridge, reshaping of the tip, and narrowing of the nostrils.
Types Of Rhinoplasty
Just like a nose, every rhinoplasty is unique. Every patient coming in seeking a nose job has different needs and expectations for the procedure. Our surgeons provide customized treatment plans for the main four types of rhinoplasty, including the following. Get in touch with us to learn more about which type is right for you.
Closed Rhinoplasty
A closed rhinoplasty is when all the incisions are made inside the nose, making it the most popular nose job procedure. The soft tissue of the nose is lifted slightly upward, leaving the bone and cartilage easy to access. This allows a surgeon to perform the needed changes to the structure of the nose. This is the least invasive rhinoplasty, and generally less irritation or swelling.
Open Rhinoplasty
Open rhinoplasty procedures are recommended for patients who need extensive work done on their nose. Before making structural changes, a surgeon cuts into the columella and lifts the skin to access the inside of the nasal cavity. This type of surgery is often chosen for patients who require extensive grafting or who have a variety of nasal issues, such as collapsed valves from a previous hump removal, structural deformities due to genetics, or deformities due to trauma.
Filler Rhinoplasty
A filler rhinoplasty is less common and nonsurgical. That makes this procedure ideal for patients who want to fix a minor imperfection with their nose. Our plastic surgeons use an injectable filler, such as Juvederm, that works to even out or fill small flaws in the nose. However, results are not permanent, so multiple sessions with our team might be necessary for patients to achieve the desired look.
Revision Rhinoplasty
Often done after one of the other types of rhinoplasty, a revision rhinoplasty is performed if patients aren't happy with the results of the initial procedure. Patients might also choose to have revisions if they want additional changes. Another common reason for a revision is breathing difficulties after a nose job; when a plastic surgeon is adjusting the structure of your nose, they may accidentally create or uncover issues that result in a small obstruction that affects your breathing.
Rhinoplasty Side Effects
Before undergoing any type of rhinoplasty, patients should be aware of the risks. As with other plastic surgery procedures, our team will discuss the side effects with you before surgery. The side effects of rhinoplasty include the following.
Breathing Difficulties
Nosebleeds
Numbing
Pain
Asymmetry
Scarring
Skin Discoloration
Swelling
Infection
Anesthesia Risks
Poor Wound Healing
Nasal Septal Perforation (Hole In The Nasal Septum)
Am I A Good Candidate For Rhinoplasty?
Rhinoplasty is a highly individualized procedure — patients should do it for themselves and how they want to look. Good candidates for a nose job include patients who are physically healthy, don't smoke, have a fully-grown face, and have a positive mindset and realistic goals in mind for the improvement of their appearance. Certain medical conditions might exclude patients from rhinoplasty — during the initial consultation, a plastic surgeon will discuss any medical conditions that might prohibit you from having rhinoplasty.
Rhinoplasty Procedure
Rhinoplasty is an outpatient procedure and requires no overnight stay. Your plastic surgeon will use local or general anesthesia. Once you're numb or unconscious, the surgeon will make cuts between or inside your nostrils. They'll separate your skin from your cartilage or bone and then start the reshaping process. If your new nose needs a small amount of additional cartilage, your doctor may remove some from your ear or deep inside your nose. If more is needed, you might get an implant or a bone graft. A bone graft is an additional bone that's added to the bone in your nose. Rhinoplasty usually takes between one and two hours. If the surgery is complex, it might take longer.
Rhinoplasty Recovery
After surgery, a surgeon might place a metal or plastic stint in your nose so it retains the new shape while it heals. Packing might also be placed on the inside as well. While initial swelling subsides within a few weeks, it may take up to a year for your new nasal contour to fully refine. During this time you may notice gradual changes in the appearance of your nose as it refines to a more permanent outcome. To reduce bleeding and swelling, patients will want to rest with their head elevated above their chest. If the nose is swollen or packed with cotton, patients might feel congested. Patients are usually required to leave splints and dressings in place for up to a week after surgery. A surgeon will inform you of activities to avoid a few weeks after surgery that might include the following.
Running Or Other Strenuous Activity
Swimming
Blowing Your Nose
Excessive Chewing
Laughing, Smiling, Or Other Facial Expressions
Pulling Clothes Over Your Head
Resting Eyeglasses On Your Nose
Vigorous Teeth Brushing