The Major Benefits
Of RF Microneedling
We've all heard the phrase, "Nothing lasts forever." And just like everything else, the plumpness, smoothness and elasticity of our skin are no exception to this rule. As we move through the stages of life, we develop acne (and consequently acne scars), fine lines, wrinkles and uneven texturing that seems almost unavoidable. Cell turnover also slows as we age. The purpose of microneedling is to aid these imperfections by improving texture and laxity as well as restoring volume within the skin.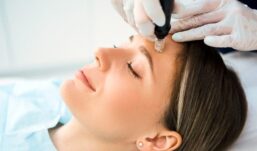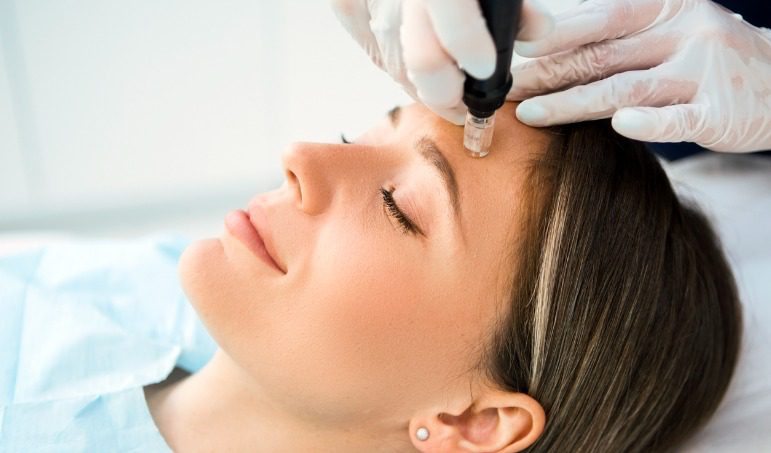 What's The Difference?
Regular microneedling uses ultra-fine needles to create controlled, near-invisible micro injuries along the skin. As a response to these "wounds," the body begins to undergo its natural healing process and produce thicker, firmer skin by rebuilding necessary proteins like collagen and elastin. These temporary punctures can also serve as channels for enhanced absorption of crucial serums.
And that's a good start. But at Dr. Tyrone's Aesthetic Center, we take things a step further.
At our practice, we combine traditional microneedling and radio frequency with Genius® RF Skin Tightening by Lutronic. This treatment involves the same technique described above, but enhances results by going through these micro channels in the skin to deliver heat energy. The heat energy propelled deep below the epidermis stimulates each layer of the skin to intensify the production of proteins and enzymes and better treat targeted skin imperfections. Gold-insulated needles deliver heat solely through the tip, ensuring your treatment is precise and effective.
Sounds Fancy. What Part Will I Actually See?
RF microneedling is the perfect trifecta of skin restoration. This practice helps with texture, improves laxity and restores volume all in one treatment. You can even do multiple treatments six weeks apart for a more dramatic, post-surgery effect. But what else does Genius® RF Skin Tightening treat?
Deep Facial Wrinkles & Rhytids (FDA Approved)
Fine Lines & Wrinkles
Acne Pitting
Scars
Uneven Skin Texture
Enlarged Pores
Stretch Marks
Primary Axillary Hyperhidrosis (Excess Sweating)
Skin Laxity Of The Neck & Body
Any and every person and skin type is a candidate for RF microneedling. Our patients are consistently impressed by how minimal the pain is (Our numbing cream is a game changer!), how quickly they get results and how little post care is necessary. With Genius®, both the needle size and energy intensity can be altered to fit every single patient's needs.
This treatment also isn't just for the face. RF microneedling is even effective on areas such as the hands, arms, abdomen, neck, chest and above the knee. But no matter what area you decide to treat, you'll experience minimal downtime and — with us — affordable pricing! On top of all this, you'll also receive a complimentary consultation where you and your aesthetician can decide on a protocol to either get started or on your way!
Get A Treatment On Us!
If you've made it this far — congrats! To thank you for reading and wanting to learn all about the incredible benefits of Genius® RF Skin Tightening by Lutronic, we're giving you a free treatment! Buy three treatments of RF microneedling and get your fourth free when you mention this blog post.
If you want to upgrade your treatment even further, ask about the array of accelerated serums, IV therapy and PRP that can be added to any of your RF microneedling treatments.
More Of A Visual Learner? Watch This Video.
Click here for more information on Genius® RF Microneedling in a short video!