Breast Reduction Surgery in Gainesville, FL
---
Patients with large, pendulous breasts may suffer from neck, back and shoulder pain due to the weight of their breast and the pull of their bra. Breast reduction surgery, known as reduction mammoplasty, is a surgical procedure to reduce the size and weight of the breasts in order to reduce these symptoms. It can also restore a more natural shape to the breast, and return the nipple to a more normal position on the breast mound. This procedure may be performed using a variety of incisions depending on the size and shape of the breasts. Dr. Tyrone routinely utilizes a wide variety of breast reduction techniques to help obtain optimal surgical results. Some of the newer techniques can give excellent results while limiting the length of the scar. This procedure is generally performed on an outpatient basis, and may be covered by your medical insurance plan.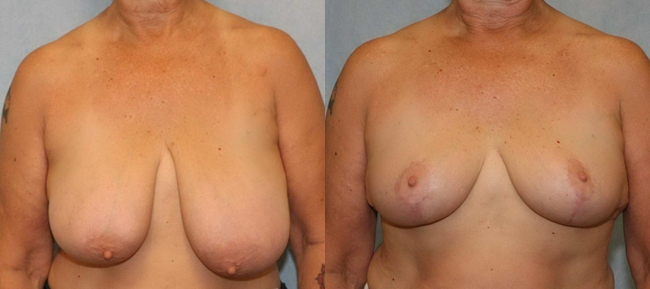 Before
After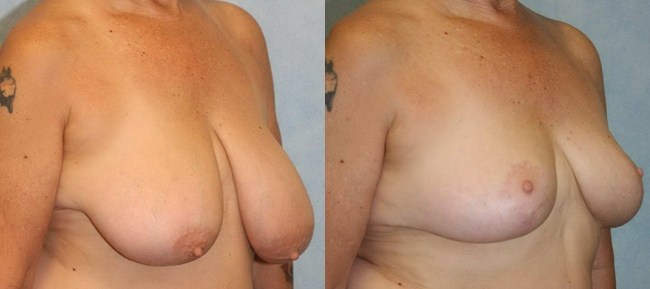 Before & AfterIn-Depth Comparison
---
Breast Reduction Case Study
Patient is a 63 year old with a history of neck, back, and shoulder pain related to her large breasts. She underwent breast reduction surgery to reduce the size of her breasts and areolas. After surgery she had significant relief from her previous symptoms.
Individual results may vary.
Schedule Consultation
View Before & After Gallery
Breast Reduction
Breast reduction surgery is an outpatient procedure performed at Dr. Tyrone's ambulatory surgery facility located in Gainesville, Florida. Our convenient location allows Dr. Tyrone to easily perform breast reduction surgery on patients from not only Gainesville and Alachua county, but also on patients from all of north central Florida. Dr. Tyrone understands that the decision to undergo breast reduction surgery is an important one. Dr. Tyrone knows the importance of educating you before, during and after the procedure and firmly believes the most informed patients are also the most comfortable, confident and satisfied patients.
Breast Reduction Frequently Asked Questions
Below are a few of the commonly asked questions regarding breast reduction surgery. We understand that patients often have many other questions, and we strongly encourage you to write them down and bring them with you to your consultation. Dr. Tyrone is happy to answer any question you may have, and believes the most informed patients are the most satisfied patients.