NeoGraft Hair Restoration In Gainesville, FL
---
For many men and women, thinning hair or a receding hairline is a common occurrence with age. There are lots of hair restoration treatments available, yet none are as discreet, convenient, and effective as NeoGraft. This minimally invasive hair-restoration procedure replaces lost hair and restores natural hairlines with no stitches, staples, or scalpels needed. In fact, it involves little-to-no discomfort, so patients may resume normal activities in just a few days. As a hair restoration surgeon in Gainesville, FL, Dr. Tyrone is a leading provider of NeoGraft procedures.To see if you're a candidate for this natural-looking hair restoration, schedule a consultation today!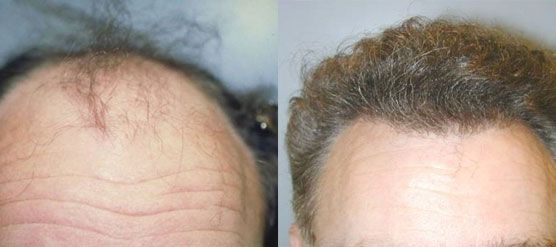 Before
After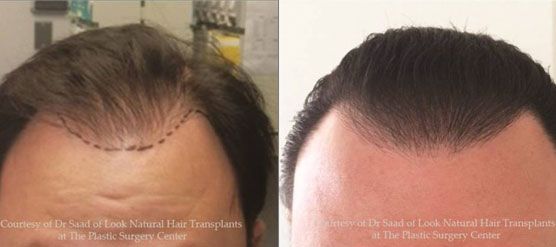 Before & AfterNatural-Looking Results
---
NeoGraft hair transplants use the person's own hair for youthful appearance with hair that looks and feels natural.
The images shown here are actual results. However, individual results and patient experiences may vary.
Schedule Consultation
How Does NeoGraft Work?
NeoGraft hair restoration consist of a simple, four-step procedure. First, Dr. Tyrone removes donor hair from the back of the head, where it tends to grow thickest. The next step is follicular unit extraction (FUE), where hair grafts are made in uniform diameters and lengths to increase the take rate. In the third step, Dr. Tyrone creates recipient sites where the donor hair will be transplanted — this requires an artistic vision to match the angle and orientation of the new hair to the patient's original growth patterns. Finally, the hair grafts are transplanted to the recipient sites, creating natural-looking hair restoration.
Because Dr. Tyrone provides a range of cosmetic and aesthetic services, you can even combine a Neograft hair restoration with another procedure, such as rhinoplasty or a brow lift, for a comprehensive new look.
Hair Restoration For Men
Hair loss in men is anything but uncommon. By age 35, nearly 70 percent of men in America experience appreciable hair loss, while male pattern baldness affects some 50 million men in the country. Genetics are most responsible for hair loss, but in addition, testosterone levels decrease as men age resulting in shorter and thinner hair, or baldness.
Hair transplant surgeons classify the degrees of male pattern baldness (or androgenetic alopecia) using the Hamilton-Norwood scale. However, no matter where on the scale your hair loss falls, the right time to seek hair restorationis when you feel you need it.
Dr. Tyrone helps men of all ages and levels of hair loss regain confidence and achieve the looks they want through hair restoration procedures. NeoGraft for men can restore your lost hair and natural hairline for a more youthful appearance. And because the hair we transplant is your own, the results both look and feel natural. So from clients at work to your significant other at home, get ready to impress the people in your life with a newer, fuller-haired you.
Hair Restoration For Women
Hair loss affects millions of women in America each year. The results aren't always as evident as the receding hairlines experienced by some men. Female pattern baldness also becomes prevalent in women older than 50, but hair loss can happen to any woman at any age.
The shock and embarrassment of female hair loss lead many women to not acknowledge the problem. That's why Dr. Tyrone offers Neograft hair restorations for women — the discreet, minimally invasive procedure can restore a woman's natural hairline with little-to-no evidence of cosmetic surgery. So while your friends or loved ones aren't likely to notice the work you've had done, they will certainly notice the happier, more confident you. Schedule a consultation to learn more.