Liposuction
In Gainesville, FL
Also known as suction lipectomy or lipoplasty, liposuction is a minimally invasive cosmetic surgery procedure that uses a suction technique to remove excess fat from specific areas of the body, such as the abdomen, hips, thighs, arms, neck, or buttocks. In addition to slimming and reshaping the body, this body contouring procedure can also provide contour to the treatment area. Liposuction can either be performed as an isolated procedure or in combination with a wide range of other types of plastic surgery, such as tummy tuck and mommy makeover.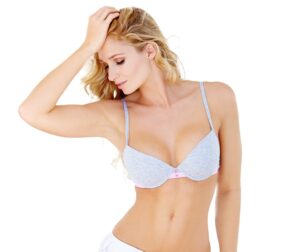 Types Of
Liposuction
The liposuction technique used depends upon the chosen type of liposuction. Based upon a patient's specific goals for cosmetic plastic surgery, our Gainesville plastic surgeon may choose from the following options to facilitate the optimal results to liposuction surgery. To learn more about the different types of liposuction or to schedule a consultation, contact us today.
Tumescent Liposuction
Tumescent liposuction is the most common type of liposuction. It involves the injection of a large amount of medicated solution into the treatment area prior to fat removal. The sterile solution mixture is comprised of an intravenous (IV) salt solution, which aids in fat removal; an anesthetic, such as lidocaine, which relieves pain; and a drug, epinephrine, which contracts the blood vessels. The fluid mixture causes the area to swell and stiffen. The surgeon then makes small incisions into the skin and inserts a cannula, or thin tube, under the skin. The cannula is connected to a vacuum that suctions the fat and fluids from the body.
Ultrasound-Assisted Liposuction (UAL)
Ultrasound-assisted liposuction (UAL) is sometimes used in conjunction with tumescent liposuction. During this procedure, the surgeon inserts a metal rod that emits ultrasonic energy, or sound waves energy, under the skin which ruptures fat-cell walls and fatty deposits in order to simplify the fat-removal process. With UAL, the fat is liquified and then suctioned-out. Innovations in liposuction technologies additionally serve to improve contouring of the skin while reducing the occurrence of damage or injury to the skin.
Laser-Assisted Liposuction (LAL)
Laser-assisted liposuction (LAL) uses a high-intensity laser energy to liquefy fat cells. During LAL, the surgeon makes a small incision in the skin through which a laser fiber is inserted and, as a result, the fat deposits emulsify. Thereafter, the fat is removed with a cannula and surgical vacuum or drained through small tubes. Because LAL uses a cannula which is smaller in size than cannulas used in other types of liposuction surgery, this type of liposuction may be preferred for confined areas, such as the chin, jowls, and face. A benefit of LAL is the stimulation of natural collagen due to the laser's high-intensity energy.
Power-Assisted Liposuction (PAL)
Power-assisted liposuction (PAL) uses a cannula with a vibrating tip, which breaks-up fatty tissues and fat deposits, in a back-and-forth motion. The vibration may allow for fat to be more easily and more quickly removed than with other liposuction procedures. PAL may also result in less pain and swelling to the surgical site and results in a higher degree of precision with regard to fat removal. This liposuction is ideal for patients who require large volumes of fat and fatty tissues to be surgically removed from the body.
CoolSculpting® is a non-invasive, body sculpting procedure that eliminates fat cells for long-term results. CoolSculpting® Elite is the only FDA-approved, non-invasive body contouring treatment for stubborn fat reduction that utilizes cooling technology to destroy and disperse subcutaneous fat (the layer of fat just under the skin). Once destroyed, the fat cells are then absorbed by the body and eliminated through its normal waste-removal processes. The result is a slimmer you! CoolSculpting® offers the benefits of targeted fat reduction with a quick, low-risk procedure and no scarring, with significant, noticeable results.
What Is Liposuction?
Liposuction, or body contouring, is a form of cosmetic plastic surgery through which fatty deposits are removed with a cannula, or a small, hollow tube. Incisions are made in areas of the body where the natural creases will minimize any potential scarring. Incisions are smaller than a centimeter in length. Once the incision is made, solutions containing anesthesia and epinephrine ("wetting solutions") are infused to minimize pain and blood loss. Once the treatment area has been infused with wetting solution, the cannula is connected to a suction unit and guided by the expert hands of Dr. Tyrone and our Gainesville plastic surgery office. The cannula is then used to suction the unwanted fat. Care is taken to both avoid irregularities in the skin caused by aggressive superficial liposuction as well as to avoid depressions caused by aggressive techniques.
Benefits Of Liposuction
Body contouring through liposuction can provide patients with a wide range of benefits, including improvements to body contours and proportion and the permanent removal of excess fatty tissues and fatty deposits located in the thighs; hips; buttocks; abdomen and waist; upper arms; back; inner knees; chest; cheeks; chin; neck; calves and ankles. Liposuction is often performed as a permanent solution to stubborn fat that cannot be removed by diet and exercise. What's more, liposuction can either be performed as a singular procedure or in conjunction with other face, breast or body plastic surgery procedures, such as facelift, breast reduction, mini tummy tuck or gynecomastia reduction. To learn how liposuction can benefit you, contact us!
Liposuction Recovery
Patients who undergo liposuction can expect to experience some pain, swelling, and bruising within and surrounding the surgical site for a few weeks following the procedure — these side effects will dissipate once the treatment area is fully healed. In some cases, the liposuction incisions may be left open and feature drains in order to promote fluid drainage. Patients are typically required to wear compression garments —  to help reduce swelling — which the patients may be required to wear for 1-2 months following surgery to aid in healing. Each patient will be provided with instructions prior to surgery, which may include post-surgical care instructions; information about which medications to apply to the surgical site or take orally to aid healing and reduce the possibility of infection; how to reduce the prevalence or worsening of liposuction scars; and when to return to the office for a follow-up appointment to ensure optimal results for healing. For more information about liposuction recovery and recovery requirements specific to your liposuction procedure, contact our plastic surgery office.
Frequently Asked Questions
Liposuction is the ideal treatment for individuals that are either within or above their ideal weight range as well as those that are bothered by isolated pockets of fat and a reduced contour to the body. Liposuction is not a treatment for obesity and it is not recommended in patients who have a significant amount of excess skin or skin of poor quality (significant stretch marks or skin without adequate elasticity). For patients with excess skin and skin of poor quality, excisional surgery, such as abdominoplasty or tummy tuck, may be more suitable. Ideal candidates for liposuction are typically in good general health without conditions that could cause complications during surgery, such as restricted blood flow, coronary artery disease, diabetes, or a weak immune system. If you are unsure whether liposuction is right for you, schedule a consultation with our clinic for plastic surgery in Gainesville, FL. We are happy to answer any questions you may have and we look forward to helping you achieve your goals for plastic surgery.
During the initial consultation for body contouring through liposuction, our Gainesville plastic surgeon, Dr. Tyrone, will inquire about the patient's medical and surgical history including current medications and allergies. It is important that patients are thorough when discussing their medical history as safety is Dr. Tyrone's top priority. Patients will discuss their concerns and motivations for seeking liposuction. Procedure details, such as incision placement as well as preoperative and postoperative requirements will be discussed. The risks of surgery will also be discussed in detail. Numerous liposuction before and after photographs of actual patients will be reviewed during the consultation. Dr. Tyrone will also carefully examine and photograph the intended treatment area(s) which require liposuction. Differences between the contours of the two sides of the body (i.e. asymmetry) will be noted and proposed incisions demonstrated. Following the consultation, patients will meet with Dr. Tyrone's patient coordinator to discuss scheduling for the surgery.
As with any type of plastic surgery procedure, there are risks of which all patients should be aware of. The vast majority of patients who undergo this procedure do not experience a significant degree of side effects following surgery. However, each patient is unique, and as such, the following liposuction risks or liposuction side effects may be applicable. During the consultation, each patient will be able to further discuss with their plastic surgeon the possible risks associated with liposuction and voice any potential concerns they may have with regard to the procedure. We aim to ensure each patient is comfortable and confident about the proposed success and post-surgical results of their procedure.
Contour irregularities
Fat embolism
Fluid accumulation
Infection
Internal puncture
Kidney and heart issues
Lidocaine toxicity
Skin numbness