Liposuction Surgery in North Florida
---
Also known as suction lipectomy or lipoplasty, liposuction is a minimally invasive cosmetic surgery procedure that uses a suction technique to remove excess fat from specific areas of the body, such as the abdomen, hips, thighs, arms, neck, or buttocks. In addition to slimming and reshaping the body, this body contouring procedure can also provide contour to the treatment area. Liposuction can either be performed as an isolated procedure or in combination with a wide range of other types of plastic surgery, such as tummy tuck and mommy makeover.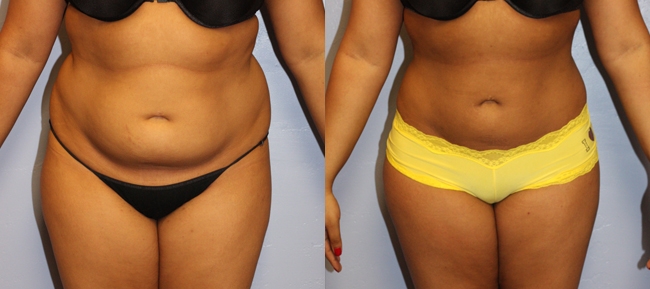 Before
After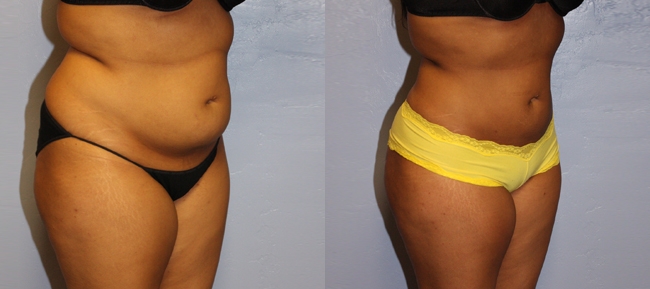 Before & AfterIn-Depth Comparison
---
Liposuction Case Study
This is a 30 year old female who underwent liposuction to the abdomen, back, lower back, and hips to remove excess fatty tissue and improve overall body contour.
Individual results may vary.
Schedule Consultation
View Before & After Gallery
Types Of Liposuction
The liposuction technique used depends upon the chosen type of liposuction. Based upon a patient's specific goals for cosmetic plastic surgery, our Gainesville plastic surgeon may choose from the following options to facilitate the optimal results to liposuction surgery. To learn more about the different types of liposuction or to schedule a consultation, contact us today.
Tumescent Liposuction
Tumescent liposuction is the most common type of liposuction which involves the injection of a large amount of medicated solution into the treatment area prior to fat removal. The sterile solution mixture is comprised of an intravenous (IV) salt solution, which aids in fat removal; an anesthetic, such as lidocaine, which relieves pain; and a drug, epinephrine, which contracts the blood vessels. The fluid mixture causes the area to swell and stiffen. The surgeon then makes small incisions into the skin and inserts a cannula, or thin tube, under the skin. The cannula is connected to a vacuum that suctions the fat and fluids from the body.
Ultrasound-Assisted Liposuction (UAL)
Ultrasound-assisted liposuction (UAL) is sometimes used in conjunction with tumescent liposuction. During this procedure, the surgeon inserts a metal rod that emits ultrasonic energy, or sound waves energy, under the skin which ruptures fat-cell walls and fatty deposits in order to simplify the fat-removal process. With UAL, the fat is liquified and then suctioned-out. Innovations in liposuction technologies additionally serve to improve contouring of the skin while reducing the occurrence of damage or injury to the skin.
Laser-Assisted Liposuction (LAL)
Laser-assisted liposuction (LAL) uses a high-intensity laser energy to liquefy fat cells. During LAL, the surgeon makes a small incision in the skin through which a laser fiber is inserted and, as a result, the fat deposits emulsify. Thereafter, the fat is removed with a cannula and surgical vacuum or drained through small tubes. Because LAL uses a cannula which is smaller in size than cannulas used in other types of liposuction surgery, this type of liposuction may be preferred for confined areas, such as the chin, jowls, and face. A benefit of LAL is the stimulation of natural collagen due to the laser's high-intensity energy.
Power-Assisted Liposuction (PAL)
Power-assisted liposuction (PAL) uses a cannula with a vibrating tip, which breaks-up fatty tissues and fat deposits, in a back-and-forth motion. The vibration may allow for fat to be more easily and more quickly removed than with other liposuction procedures. PAL may also result in less pain and swelling to the surgical site and results in a higher degree of precision with regard to fat removal. This liposuction is ideal for patients who require large volumes of fat and fatty tissues to be surgically removed from the body.