Breast Lift or Mastopexy
---
Breast lift or mastopexy surgery is a technique performed to restore a more youthful shape and position to a breast that has developed ptosis (drooping of the breast) related to aging, pregnancy, breast feeding, or weight loss. Over the years, these factors and the effects of gravity take their toll on a woman's breasts. As the skin loses its elasticity, the breasts often lose their shape and firmness and begin to sag. A breast lift is a surgical procedure to raise and reshape sagging breasts–at least, for a time. (No surgery can permanently delay the effects of gravity.) Mastopexy can also reduce the size of the areola, the darker skin surrounding the nipple. Incisions required for breast lift are similar to those required for a breast reduction. The major difference between a mastopexy and a reduction are that in a reduction the excess breast tissue is removed while in a lift it is lifted and rearranged to a more youthful position. If your breasts are small or have lost volume, breast implants inserted in conjunction with mastopexy can increase both their firmness and their size. Ideal candidates for breast lift or mastopexy surgery are those women who are pleased with the size of their breast when wearing a bra and those patients with good quality skin with few stretch marks.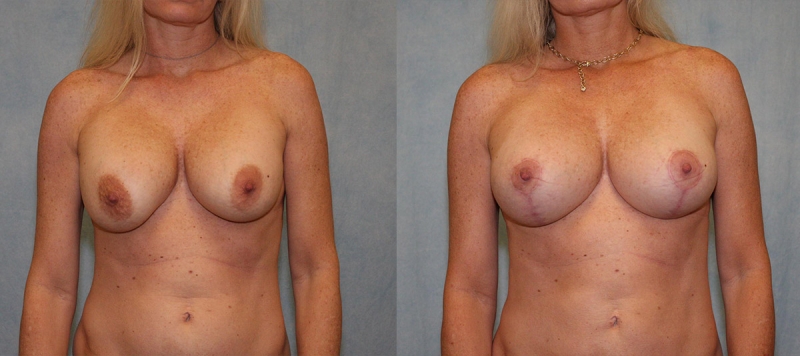 Before
After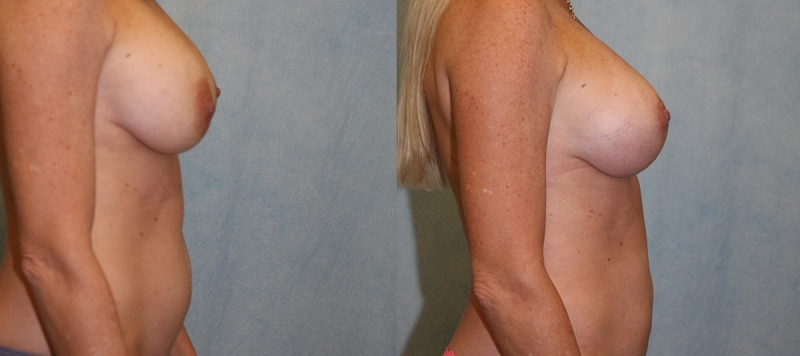 Before & AfterIn-Depth Comparison
---
Breast Lift Case Study
Full Mastopexy with Implant Exchange and Capsulotomies
This patient is a 46 Year old mom of 3 with pre-existing saline breast implants and malposition of the implants. An implant exchange from Saline to Silicone gel, capsulotomies and a full breast lift were required to provide proper placement of the breast implants and to give the patient a more natural appearance.
Individual results may vary.
Schedule Consultation
View Before & After Gallery
Mastopexy Surgery
Breast lift or mastopexy surgery is an outpatient procedure performed at Dr. Tyrone 's ambulatory surgery facility located in Gainesville, Florida. Our convenient location allows Dr. Tyrone to easily perform breast lift surgery on patients from not only Gainesville, Florida, but also on patients all of central and north Florida. Dr. Tyrone understands that the decision to undergo breast lift surgery is an important one, and he knows the importance of educating you before, during and after the procedure. He firmly believes the most informed patients are also the most comfortable, confident and satisfied patients.
Breast Lift (Mastopexy) Frequently Asked Questions
Below are a few of the commonly asked questions regarding breast lift (mastopexy) surgery. We understand that patients often have many other questions, and we strongly encourage you to write them down and bring them with you to your consultation. Dr. Tyrone is happy to answer any question you may have, and believes the most informed patients are the most satisfied patients.